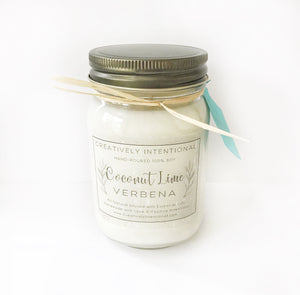 Coconut Lime Verbena Soy Candle Pint 16 oz
SKU: SCCLV16
Regular price $0.00 $24.00 Sale
Picture yourself relaxing comfortably on a beach chair or in your own backyard. The summer sun warms your skin as you take a sip of your favorite beverage. The delicious smell of coconut and lime wafts through the air! Make every day feel like summer vacation with COCONUT LIME VERBENA. Add the scent of freshly squeezed lime, citrus, lemon verbena, a touch of musk and coconut to any room or space with our 16 ounce (full pint) soy wax candle in COCONUT LIME VERBENA so that you can relax and let stress melt away. This fragrance makes any space feel like summer. This fragrance is ideal for those who want to be in vacation mode or for those who enjoy a fresh, tropical fragrance so that they can feel as if they've been transported to paradise.
All of our candle and wax melt products are handmade, hand-poured and hand-packaged. We use 100% natural soy wax, infused with plant-based essential oils for a clean burning vegan-friendly product that's free of toxins, carcinogens, pollutants and dyes. The wicks we use are 100% cotton, containing no lead or zinc, and DO NOT produce petrol soot while burning. 
Wax melts are ideal for small spaces such as bathrooms. 
8 ounce candles work best in mid-sized rooms, such as kitchens or bedrooms. 
Pint-sized candles offer the best scent throw for larger rooms or spaces.
**Please note: our 16 ounce soy candles contain 16 ounces of scented wax. Combined with the glass jar and packaging materials, the shipping weight is over one pound.
At Creatively Intentional, we are always open to new fragrance ideas. Send us a message with your suggestions!